Dispelling the myth that accessible design cannot be functional and beautiful at the same time, Sinéad Burke will speak from her personal lived and professional experience of working with global fashion companies, such as Gucci and Ralph Lauren, to illustrate how innovative, accessible design could benefit all.
But this session goes beyond product and design. Following Sinéad's presentation she will join a conversation with the guest panelists noted below.
We will explore ways to bring awareness and potential solutions to systemic challenges that will help create an ecosystem and business models that value diversity and inclusion holistically - from the design and production all the way down to how the product is being promoted and brought to market.
The adaptive fashion market share was valued at $285.66 Million USD in 2021. It is projected to reach $426.74 Million USD by 2030, growing at a compound annual growth rate of 5.18% from 2023 to 2030.

Black, transgender and disability model, Aaron Rose Philip for ASOS in 2018. Photo by Katie McCurdy. All rights reserved by ASOS.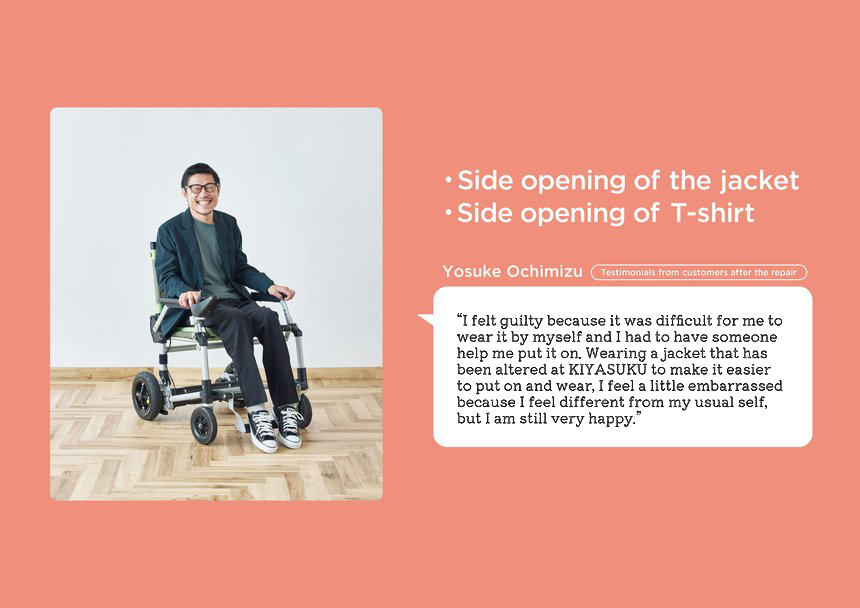 Testimonial from Yosuke Ochimizu, wheelchair user and KIYASUKU customer. All rights reserved by KIYASUKU.
About The Speakers 
Sinéad Burke, Founder and CEO of Tilting the Lens
Sinéad Burke is an educator, advocate, and author dedicated to promoting accessibility, equity, and social justice. As the Founder and CEO of Tilting the Lens, she advises major global brands on creating more accessible practices and policies.
Sinéad's work has been recognized by prestigious publications such as Vogue, The Financial Times, and Vanity Fair. Her TED Talk, "Why design should include everyone," and her award-winning children's book, Break the Mould, have captivated audiences worldwide.
Teppei Maeda, Founder of KIYASUKU
Teppei Maeda began at UNIQLO in 2000. After working as a store manager in the Tokyo metropolitan area, he had engaged in production planning, sales planning, management planning and E-commerce operations at the headquarters.
He retired from the company in December 2020 and established Co-Wardrobe Co., Ltd in January 2021. In March 2022, he launched KIYASUKU– an online clothing alterations service for people with disabilities.
Aaron Rose Philip, Model and Advocate
Aaron Rose Philip is an Antiguan-American model. In 2018, she became the first black, transgender and physically disabled model to ever be represented by a major modeling agency and has since modeled in several major high fashion photo shoots and campaigns.
In 2021, Aaron Rose debuted as an exclusive for Moschino's Spring/Summer 2022 fashion show– making her the first model using a wheelchair to walk for a major luxury fashion brand.
Jay Calderin, Founder and Executive Director of Boston Fashion Week
The Boston Globe refers to Jay Calderin as "a budding designer's best friend" and the LA Times called his book, The Fashion Design Reference & Specification Book — "a new fashion bible for designers, aspirers, and the just plain curious, this time contains all the secrets."
He teaches at the School of Fashion Design at Massachusetts College of Art + Design, and the Museum of Fine Arts in Boston. His artistic endeavors explore the intersections between communication, technology, culture, and community.
Rebekah Taussig, Writer and Educator
Rebekah Taussig is writer and educator with her doctorate in Creative Nonfiction and Disability Studies. Bolstered by academic knowledge and personal experience, she strives to tell stories that enhance and complicate the way we think about disability.
You can find more of her work in TIME, online or in her memoir in essays, Sitting Pretty: The View from My Ordinary Resilient Disabled Body.
Key Details
Date: Thursday, July 27, 2023
Time: 12:00 p.m. to 2:00 p.m EST
Location: Online on Zoom Webinar. Closed captioning will be provided.
Type: IHCD Global Webcast
Price: Free
If you have any questions or concerns or would like to request an accommodation, please email us at communications@IHCDesign.org.  
---
This webcast is part of the IHCD International Inclusive Design Webcast Series in Memory of Eliza Forrest Kaye Bromfield. Eliza was a beloved member of the IHCD family. Through this series of public lunch & learn events that Eliza ran in her years with IHCD, we intend to honor her curiosity and enthusiasm for inclusive design. We sincerely thank her loving family for their generous support of this lecture series.